Residential Painters in Sydney
When it comes to the residential painting industry, there is a multitude of services available on the market that promise impeccable results. Even though many freelance painters have vast experience in the field, they may end up spending a lot of time on a small job, without offering the desired results. Hence, it is best to opt for professional residential painting services to benefit from a paint job that will last for years to come. Many residential painters are also expert in other fields such as strata units painting services, commercial painting services and vice-versa.
What are the Benefits of hiring a professional residential painter in Sydney
Due to the fact that painting your home requires a bundle of steps that need to be carefully done, it is best to choose to hire a residential painter in Sydney that will ensure the job gets done correctly and you will be satisfied with the results.
Residential professional painter and colour advice
Opting for a specific for your living space might turn out to be rather difficult, especially when it is the case for changing from previous colours. Thus, opting for residential painting services in Sydney might smooth the entire process, while the professional painter will advise you in regards to what is best for your interior or exterior painting. A residential painting expert will know what colour is best for different rooms depending on their usage, lighting or any other considerations.
Well, the best residential painting services in Sydney are the ones that take a painting project and set up proper preparation of the space, before actually starting painting the walls.
First of all, your furniture, blinds or any other items in the room will need to be moved away from the walls, while some covering will have to be placed to protect those against any substances that will be used on the walls. Also, the flooring will need to be protected with high-quality drop cloths, meant to absorb any drips.
Besides this step, a residential painter will focus on correctly prepping the walls before actually applying colour. Interior painting requires a lot of attention to details such as holes to fill, cracks to caulk or popped nails to fix. Furthermore, after this, the walls will need to be cleaned in order to remove dust and debris.
Professional residential painters in Sydney will apply a primer made from high-quality materials, which will act as the base on which the paint will be applied. This step is what makes the difference between a regular painter and an expert residential painter. Thus, the primer aid in preventing the mould and evenly distribute the pant over the entire section of the wall. After it is allowed to dry, the primer will be followed by a process called `lightly sanding`, which consists of removing bumps or imperfections using sand.
Professional painting services
Usually, after the steps in the preparation list above have been fulfilled, many painters allow the walls to sit before applying the paint. But professional residential painters will try to apply the first coat of paint on the wall due to the fact that multiple layers are required for an outstanding result.
How to choose a residential painter in Sydney?
Selecting a professional painter is not that difficult in compare to choosing a strata units painters in Sydney if you take into account the following.
It is best to look for a licensed painter for residential areas which will ensure you will benefit from excellent work and results. Moreover, this painter will know and use the latest tools and techniques to offer you the best from the hired painting services.
Moreover, if you are wondering whether or not to select a single residential painter or a team of painters in Sydney, it is best to think about the dimensions of the painting job you need. A general rule states that a vast, complicated project requires a team due to the fact that they can understand faster your need and finish the work efficiently and professionally.
Of course, the experience is a big plus when it comes to choosing residential painters in Sydney. You can ask for a portfolio, client recommendations or references from previous workplaces, which will permit you to select the best house painting services in Sydney.
Bottom line, when it comes to residential painting services in Sydney, you will have diverse options to choose from depending on your needs. Whether or not you will have a small or big renovation gig, there are available a bundle of professional interior painting experts that can offer you advice on what is the best approach for your residential painting needs.
Roof Tile Painting in Sydney?
Korean Johns Painting provides a professional roof tile painter around the Sydney Area.
Roof tiles are exposed to the harsh elements of the Australian Weather – namely rain, strong heat and hail in sometimes, which all break down your roofing surface. Eventually your roof becomes less water resistant and moss start to thrive. We'll clean your roof completely before applying the paints. Following that, two coats of protective paint will be applied. This activity will seal your roof and prevent the formation of the above-mentioned aggressive fungi.
We can cover all you painting needs for your home interior, exterior and out buildings. Most jobs need to have full preparation of the surfaces to produce a quality finish and we will ensure that this is professionally carried out on all of our jobs.
---
INTERIORS
Walls, Ceilings, Doors

Feature Wall

Vermiculite Ceiling Spray Painting

Wallpapering

Skirting Boards

Window Doors and Frames

Picture Rails, Stairs

Floors Sanding and Polishing

Preaparation / Crack Patch Wall
EXTERIORS
All Acrylic Colour Rendering Specialist

Brick & Metal Surfaces

Eaves, Gable, Gutters & Fascia

Handrails, Downpipe, Metal and Tile Roof

Decking, Weatherboard & Concrete Floors

Verandahs, Pergolas, Gazebos & Fences

Rotten Timber Repair & Carpentry Works
Summary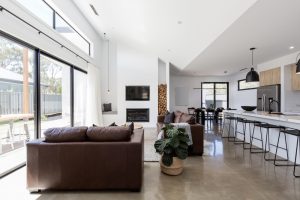 Service Type
Residential Painting Service
Provider Name
John's Painting Group
,
51 Albyn Rd
,
Strathfield
,
New South Wales
-
2135
,
Telephone No.0297155555
Area
Sydney and its surrounding areas
Description
John's Painting Service provides the best Residential Painting Service in Sydney and its surrounding areas in cheap and affordable price.